What languages does Déjà Vu X3 have spell-checkers available for?
You can see the the languages that Déjà Vu X3 Spell-checker has found dictionaries for by accessing the Proofing tab of the Déjà Vu X3 Options dialog: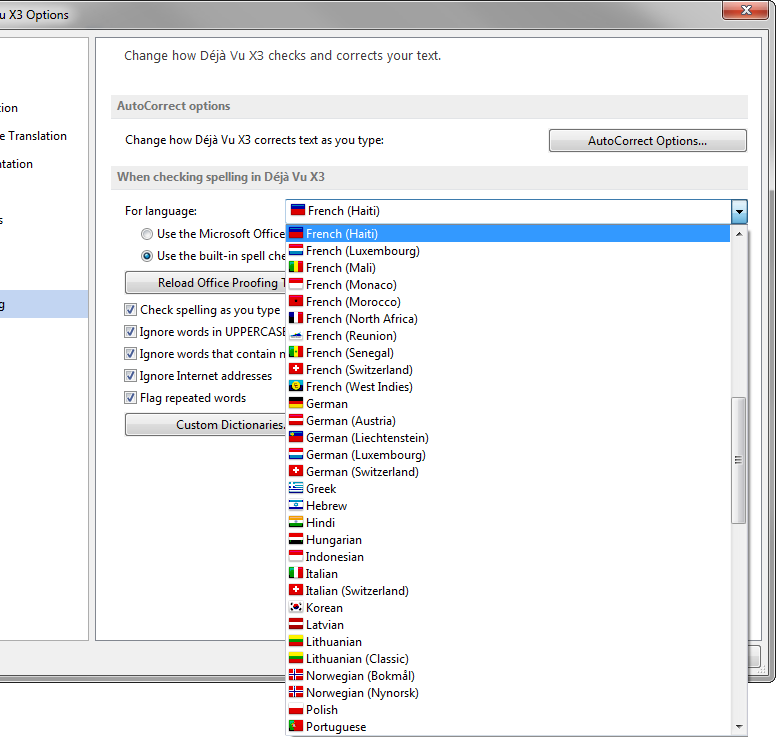 The list of languages shown there includes languages for which any kind of compatible dictionary has found. This includes:
Dictionaries that come with Déjà Vu X3 by default, provided by Hunspell
Dictionaries for other languages that are provided by the Hunspell and installed separately by you
Dictionaries that are part of the Proofing Tools available in  Microsoft Office, if it is installed.
Custom dictionaries you have created.
Dictionaries provided by Déjà Vu X3 by default
By default, Déjà Vu X3 comes with dictionaries for these languages:
Afrikaans - South Africa
Albanian - Albania
Bulgarian
Catalan
Croatian
Czech
Danish
Dutch - Netherlands
English - Australia
English - Canada
English - South Africa
English - United Kingdom
English - United States
Estonian
Faroese
French - France
German - Austria
German - Germany
German - Switzerland
Greek
Hebrew
Hindi
Hungarian
Indonesian
Italian - Italy
Korean
Latvian
Lithuanian
Norwegian (Bokmål)
Norwegian (Nynorsk)
Polish
Portuguese - Brazil
Portuguese - Portugal
Romanian
Russian
Serbian (Cyrillic)
Serbian (Latin)
Slovak
Slovenian
Spanish - Spain (Traditional Sort)
Swedish
Swedish - Finland
Tamil
Turkish
Ukrainian
Vietnamese